Strategic Partner Tableau
Want to explore huge data easily, cut down your analysis time and drive growth for your business?
Our Key Clients

Making informed decisions made easier with Tableau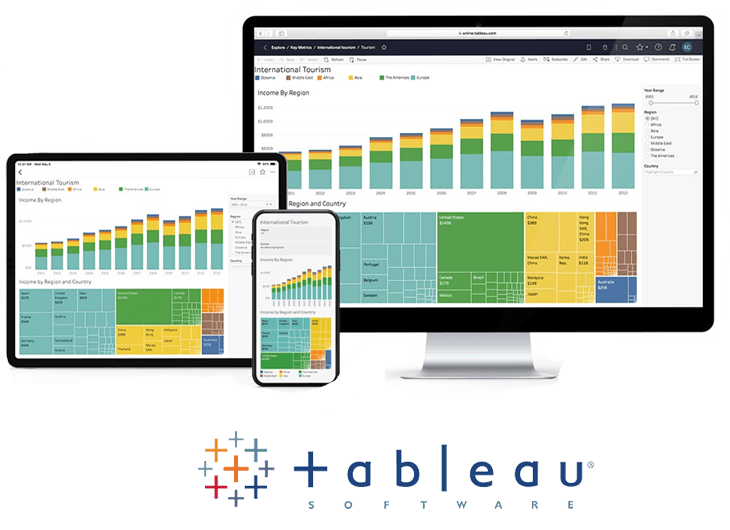 See and understand data more easily than ever before. Choose the people and analytics platform that can help you reveal key patterns, trends using which you can drive business outcomes. Award winning data visualization and analytics platform, Tableau is an intuitive and powerful interface offering a user experience that empowers people of all skill sets to discover and study data using natural language and visuals.
Create dashboards and ad hoc analyses in a few clicks. From early stage start-ups, small businesses to enterprises, people can use Tableau software to evaluate, visualize and share information. This strategic partnership brings together our business intelligence service offerings with Tableau's breakthrough analytics technology.
Tap into the Power of Data


Self Service BI
Build and share interactive dashboards and reports in minutes, not days. Explore, find and measure data insights in a secure environment seamlessly.


Powerful Analytics
A complete suite of solutions to meet the needs of your organization. Deploy at scale using the best-in-class analytics platform.


Data Visualization
Create beautiful and insightful dashboards, analytics reports using its simple drag-and-drop interface. An analytics platform to visualize and analyse massive sets of data in an easily digestible format.

Data Source
Get a myriad of data source options like non-relational databases, feeds, cloud drives, big data, warehouses and on-premise files to connect and import data.


Data Blending
Easily combine huge volumes of data from multiple sources to analyze together and create functional reports in a single view.

Highly Secure
Security is high priority with Tableau. It allows you to seamlessly integrate with your existing security protocols such as Active Directory, Kerberos, etc., and helps you keep the content secure with multi-tenancy options & controls.
Download Tableau and start free 14 days trial!

Start

Why Sedin as Your Tableau Partner?

14 years of extensive industry experience

50+ Successful Implementations

Global Delivery Centres

35+ Tableau Clients

20+ Certified Experts
Why Sedin Business Intelligence Services?

Want to uncover new business opportunities in minutes?